What are Five Benefits of a Concrete Driveway Versus Asphalt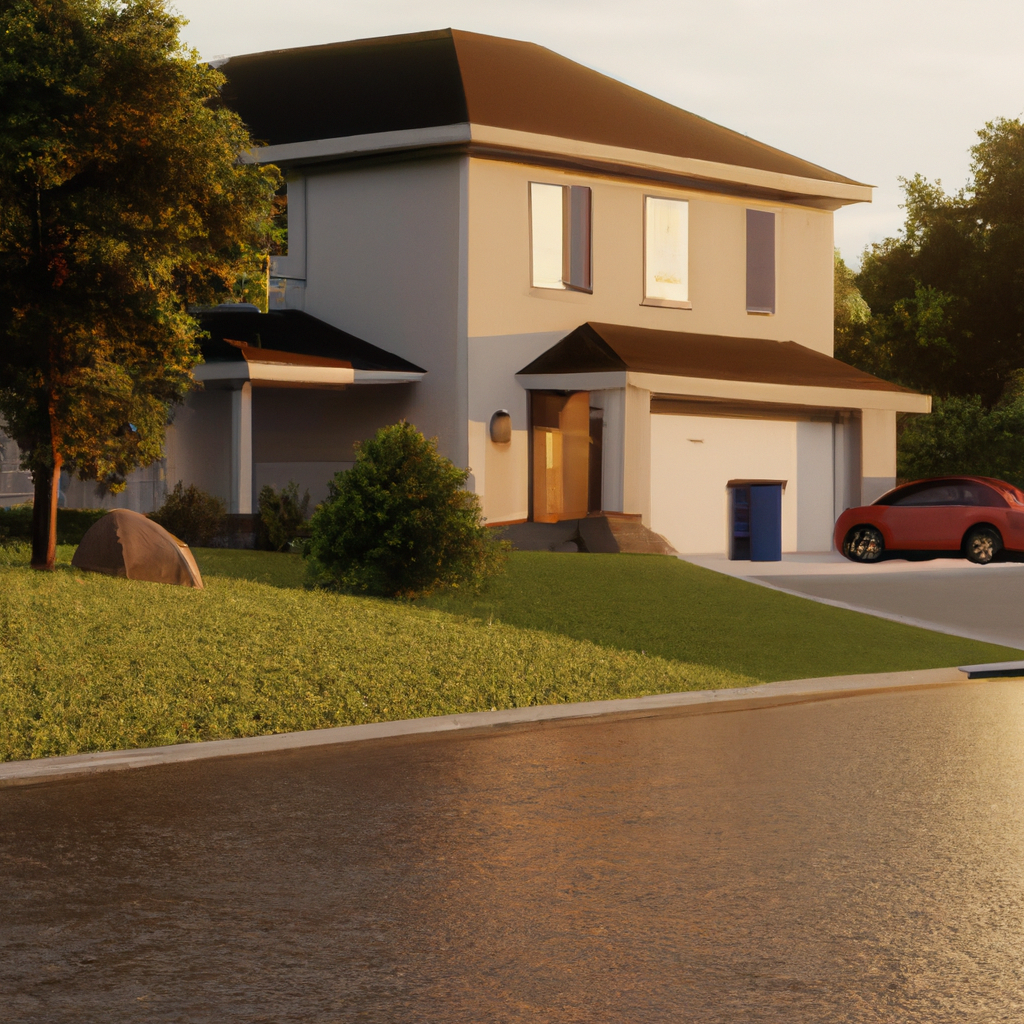 Introduction to Concrete Driveways and Asphalt
Concrete and Asphalt are both popular choices for driveways. Each has its pros and cons. Concrete is durable, versatile, needs little maintenance, looks great and adds value to your home. Asphalt is flexible, easy to put down, offers good skid resistance and is easily repairable, but not as durable as concrete.
Concrete has been growing in popularity thanks to its durability - it can last 30-40 years or more with correct installation and maintenance. And if you want something special, you can get stained or stamped concrete with different patterns or colors that will fit in with the surroundings. Plus, concrete driveways help with drainage and stop soil erosion.
An example of how tough concrete driveways can be is from Florida. An unattended car caught fire and caused damage to driveway and house. The concrete only had some surface damage from the flames, and stayed strong until repairs were done.
Concrete driveways might not give you superpowers but they do offer five great benefits over asphalt!
Durability: Concrete lasts longer and is more durable than asphalt.
Low Maintenance: Concrete driveways need less maintenance than asphalt driveways.
Appearance: Concrete driveways look better and can be customized with different colors and patterns.
Environmental Benefits: Concrete driveways help with drainage and stop soil erosion. This makes them a more environmentally friendly choice.
Value: Concrete driveways add more value to your home than asphalt driveways.
Benefits of Concrete Driveways
To highlight the perks of having a concrete driveway, let me tell you about the Durability, Low Maintenance Requirements, High Resistance to Temperature Fluctuations, Versatility of Design Options, and Increase in Property Value that come with concrete driveways, as opposed to asphalt ones. Let's take a closer look at each of these benefits to get a better understanding of why concrete is the ideal choice for your next driveway project.
Durability of Concrete Driveways
Concrete driveways are preferred for their robustness and longevity. Highly durable and resistant to wear and tear, they can bear heavy traffic. Low maintenance and easy to clean, they don't get damaged by stains or abrasion.
Plus, they have a long life span compared to other surfacing options. Asphalt surfaces need repairs, but concrete surfaces remain intact for decades with little attention. What's more, concrete is non-flammable, ensuring driveway safety.
Furthermore, concrete driveways are resistant to snowfall and rainstorms. They don't damage easily under hot and cold temperatures. These low-maintenance surfaces offer many long-term benefits.
Not only that, but a properly installed concrete driveway enhances the property's appeal, adding value. It's an ideal surface for recreational activities, like basketball or skating, due to its smooth finish.
In conclusion, concrete driveways are cost-effective in the long run. They save time on costly repairs and keep exterior spaces looking great. It's no wonder they've become an investment choice among property owners!
Low Maintenance Requirements of Concrete Driveways
When it comes to Concrete Driveways, they're low-maintenance and durable. You don't have to spend a lot of time or money taking care of them. Plus, they don't need frequent sealing like asphalt - they don't crack or get damaged easily.
Concrete driveways maintain their look for longer periods - when put in place correctly. They can also resist weather changes like snowfall or extreme temperature variations.
Choose a concrete driveway for a long-lasting option that requires minimal maintenance. It'll save you time and money in the long run - all you need to do is clean it regularly.
Say goodbye to high-maintenance driveways! Concrete can handle temperature changes - proving that it was made to survive Mother Nature's hot and cold shoulder.
High Resistance to Temperature Fluctuations of Concrete Driveways
Concrete driveways: Unwavering Temperature Resistance!
Its unmatched durability makes it a superior choice. Temperature variances won't crack or split it. It resists heat and cold without becoming brittle.
Customize your exterior space with a variety of finishes and colors. For long-lasting endurance, keep it free from oil, debris, and water. Avoid drought conditions and plants prone to extreme dehydration. Enjoy the freedom to design a masterpiece or just stick with the grey slab!
Versatility of Design Options with Concrete Driveways
Concrete driveways are great for those who want a versatile design - from simple to intricate. Stenciled concrete offers geometric shapes and customized painting. Stamped concrete duplicates textures like brick and cobblestone. Cut patterns create a patterned finish by cutting lines into the concrete.
And it's low-maintenance and durable, so your investment will last. It's been in use since 300 BC when the Romans used it to build structures like the Pantheon. Plus, a concrete driveway can increase your property value and you can reenact scenes from The Fast and the Furious!
Increase in Property Value with Concrete Driveways
Invest in a concrete driveway today to increase the value of your property! It is durable, low-maintenance, and offers versatility in design. Plus, it is aesthetically pleasing and adds to curb appeal.
Furthermore, concrete won't be affected by weather changes and requires no periodic resurfacing or sealing. It is also more secure than other materials, deterring unauthorized parkers entering.
Hire professionals to design and install these types of driveways. This will enhance the look of your home while adding value.
Don't miss out on the opportunity to increase your investment and add to your property's curb appeal. Choose a concrete driveway and save money on future maintenance costs!
Benefits of Asphalt Driveways
To understand the benefits of asphalt driveways, you can compare them with the concrete driveway and explore the advantages of each type. As an expert in concrete contracting, I have measured the pros and cons of both types of driveways. In this section, we will discuss the cost-effectiveness, quick and easy installation, good traction, availability in cold climates, and smooth finish of asphalt driveways.
Cost-Effectiveness of Asphalt Driveways
Asphalt driveways are cost-effective. They provide durability and weather resistance, perfect for residential and commercial properties.
Let's take a look at the cost comparison between asphalt, concrete, and gravel driveways:
| Driveway Type | Initial Cost per Square Foot | Maintenance Cost per Year |
| --- | --- | --- |
| Asphalt | $2-$4 | $0.20-$0.30 |
| Concrete | $4-$6 | $0.35-$0.50 |
| Gravel | $1-$3 | $0.10-$0.25 |
Asphalt is the cheapest option. It's also easy to repair and maintain. Cracks and potholes can be filled with new asphalt.
Asphalt has been used for over 100 years. It was first used in Europe, then introduced in the US during the 19th century. Nowadays, even your lazy neighbour could install it - if he ever gets around to it.
Quick and Easy Installation of Asphalt Driveways
Asphalt Driveways: A Swift and Effortless Installation!
Asphalt driveways are a top pick for homeowners, as they can be set up with ease. It's simple and fast! Here's a 3-Step Guide to help you install your own asphalt driveway:
Preparation: Get the area ready. Remove any existing surface, grade the area, and compact the soil.
Installation: Put down a gravel base and then a layer of asphalt. The thickness of each layer depends on your needs.
Finishing: Add sealing and painting if you want.
Plus, asphalt driveways are strong and resistant to weather, so they need less maintenance than other surfaces. To keep your driveway looking great for longer, keep it clean and sealcoat regularly.
Follow these steps and take care of your asphalt driveway and you'll be able to enjoy the benefits for years to come!
Good Traction of Asphalt Driveways
Asphalt driveways are a popular choice for homeowners due to their traction properties. The rough, textured surface offers good grip for vehicles and pedestrians, even in wet or icy conditions.
To further improve traction, sealants and coatings can be applied. Adding polymer fibers to the asphalt mix creates a stronger surface with improved skid resistance. Latex or acrylic polymers bind the asphalt together tightly, preventing it from becoming slippery.
These benefits help homeowners feel safe and secure. Extra peace of mind can be achieved by adding grip-enhancing aggregates like sand or crushed stone.
A homeowner from Montana experienced the traction of an asphalt driveway during heavy winter weather. Despite the snow and ice, they safely navigated their vehicle up the incline. Asphalt driveways are a smart investment in safety and aesthetics - plus, they're more reliable than an ex!
Availability in Cold Climates of Asphalt Driveways
Asphalt Driveways are perfect for chilly climates! They don't crack or get damaged from frost, plus their dark color helps melt away snow and ice quickly. Plus, they provide excellent grip, even in icy and snowy conditions. Installing them is also simpler and faster than other materials like concrete.
But, it's important to hire a reputable contractor with experience to make sure the installation is done right. Otherwise, costly repairs could be needed.
For added life expectancy, invest time and money into preserving your driveway by filling cracks with sealants every year. Make your driveway smooth and easy to traverse with an asphalt driveway - no more bumpy rollercoaster rides!
Smooth Finish of Asphalt Driveways
Asphalt Driveways boast a velvety-smooth texture, which has a pleasing aesthetic appeal. This is due to the fine aggregate used in construction. Moreover, this smooth finish provides extra safety. It reduces skidding and stops water from gathering on the surface.
Asphalt also has great flexibility. It contours to surfaces without cracking or warping. So, even rough terrains can benefit from such driveways. Moreover, it's relatively inexpensive when compared to other driveway materials.
Pro Tip: Doing regular maintenance, like sealing every two years, can keep your asphalt driveway looking fresh and long-lasting for many years. Concrete may be sturdier, but asphalt has the upper hand in hot summer months - it won't burn your feet!
Comparison of Concrete and Asphalt Driveways
To compare concrete and asphalt driveways, I am presenting five sub-sections: durability, maintenance requirements, design options, installation process, and long-term cost-effectiveness. Each sub-section has unique ways to address the advantages and disadvantages of choosing either concrete or asphalt for your driveway.
Comparison of Durability
When it comes to sturdiness, Concrete and Asphalt driveways were compared. The results are as follows:
| | | |
| --- | --- | --- |
| Factors | Concrete | Asphalt |
| Durability | Can last up to 30 years if taken care of. | Can last up to 20 years but requires repair often. |
Both have their pros and cons. Concrete is great for heavy loads, while asphalt adapts to temperature changes.
Maintenance is essential for both.
For instance, snow must be removed from concrete to increase its life expectancy. Asphalt has been used for roads for centuries. Despite some disadvantages, it's still popular due to its affordability and durability. Maintaining a concrete driveway is hard work, while asphalt driveways are more relaxed - just let the rain do the cleaning.
Comparison of Maintenance Requirements
Comparing Concrete and Asphalt Driveway maintenance, there are differences based on the material used. Concrete sealing needs to be done every 5-10 years, while Asphalt every 3-5 years. Crack repair is higher frequency with Asphalt, while Concrete has higher resistance to weathering effects. According to NCHRP, maintenance costs range from $0.40-$34/m2. Choose your driveway design wisely - it's the entrance to your home, not a runway!
Comparison of Design Options
Concrete and asphalt driveways have different design options for homeowners to choose from. To help make an informed decision, a comparison table is created below. It presents the features side by side.
| Design Options | Concrete Driveway | Asphalt Driveway |
| --- | --- | --- |
| Durability | 30 years | 20 years |
| Maintenance | Sealing every few years | Resealing every one to two years |
| Installation Time | Longer due to curing time | Quicker with minimal curing time |
| Cost Effectiveness | Higher upfront cost, lower maintenance costs | Lower upfront cost, higher maintenance costs |
It's important to remember: concrete driveways last longer, but cost more and need more maintenance. Asphalt driveways are cheaper, but require more frequent repairs and sealings. Each has its own pros and cons. Consider climate, budget, and maintenance requirements for your area before making a decision.
Pro Tip: Installing a concrete driveway is like baking a cake - you use cement and your workout for the day!
Comparison of Installation Process
Comparing the installation process of concrete and asphalt driveways? There are a few differences to consider. One huge one? Time.
A table could be created to outline the difference in installation time, equipment used and steps taken for each. It could also include info about any maintenance or repairs for each material over time.
For example, asphalt requires heavy machinery to excavate and lay down gravel and asphalt. In contrast, concrete needs minimal excavation and may only need a single layer of concrete.
But keep in mind, these processes can differ due to climate and building codes. Generally, concrete is faster and takes less specialized equipment.
One homeowner recounted their experience. After considering cost, durability, and aesthetics, they chose a concrete driveway due to its low-maintenance and ability to handle harsh weather. Asphalt may cost less upfront, but a concrete driveway is a better long-term investment.
Comparison of Long-term Cost-effectiveness
Concrete and asphalt driveways are two popular choices. To compare their long-term affordability, we made a table. Concrete costs $4 - $7 per square foot. Asphalt is cheaper at $3 - $5 per square foot. But concrete lasts longer - 25 to 30 years - despite taking longer to install.
Other factors to consider: concrete may crack in extreme temperatures. Asphalt is prone to damage from oil spills.
Choosing a driveway surface is like choosing shoes. Pick the one that will last.
Conclusion: Choosing the Right Driveway Surface
A concrete driveway is better than asphalt. Here's why. Benefits include:
Table of Comparing Features:
| Feature | Concrete | Asphalt |
| --- | --- | --- |
| Durability | Long lifespan, less maintenance | Prone to cracks/ potholes |
| Safety | Highly skid-resistant, even when wet | Slippery and dangerous when wet |
| Cost-effectiveness | Inexpensive long-term maintenance | Frequent maintenance needed |
Concrete can last up to 30 years, while asphalt only lasts 10. Consider your style, budget, and future plans before deciding. Think carefully - it's a lot of money to burn if you make the wrong choice!
Frequently Asked Questions
Q: Why should I choose a concrete driveway over an asphalt one?
A: There are several benefits to choosing a concrete driveway over an asphalt one, including durability, easy maintenance, longevity, aesthetic appeal, and increased property value.
Q: How long can I expect a concrete driveway to last in Indiana?
A: Concrete driveways can last up to 30 years or more in Indiana, compared to asphalt driveways that typically need to be replaced every 15-20 years.
Q: How do I maintain my concrete driveway?
A: To maintain your concrete driveway, you should clean it regularly with a pressure washer or hose, avoid using harsh chemicals, and promptly repair any cracks or chips that may occur.
Q: Does a concrete driveway require more upkeep than an asphalt one?
A: No, a concrete driveway actually requires less upkeep than an asphalt one. Concrete is more resistant to stains, cracks, and other forms of damage, and it does not require frequent seal-coating or repairs like asphalt does.
Q: Will a concrete driveway increase my property value?
A: Yes, a concrete driveway can increase your property value, as it is a durable and attractive feature that adds curb appeal and functionality to your home.
Q: Can I customize the look of my concrete driveway?
A: Yes, you can customize the look of your concrete driveway with various colors, textures, and patterns to match your home's style and aesthetic.